about
About, services and clients testimonials ...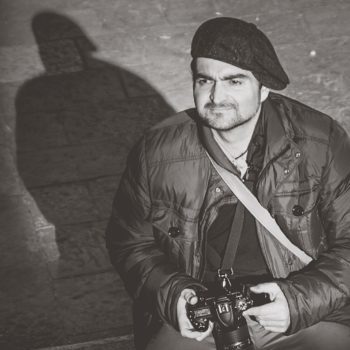 Dear all,
First of all, thanks for visiting my website; I did not want to bore you with a formal introduction of myself, my biography and professional career, I think the best way to do it is sharing some of my clients' feedback & testimonials. Their experiences and comments are most valuable and make me proud.
I currently offer Worldwide services to International hotel companies; in addition to my photography skills, I also bring to the table my know-how on following a brand's shooting guidelines and company procedures, making sure all stakeholders involved in the project are happy with the outcome thanks to a smooth process.
As I mentioned earlier, let my clients speak for themselves!
Thank you,
ADOLFO RANCAÑO GIJON
Hospitality & Resort Photography
Testimonials & clients feedback
We met Adolfo over 10 years ago; he was developing an innovative technique: 360 º photography. Nowadays, we are all familiar with such product – nothing easier than shooting panoramic 360 degree views using automatic cameras available in the market since a few years- but back in 2006, virtual tours like these was something new and cool. He was able to capture the uniqueness of our properties through the lens of his camera, we have been using his panoramic pictures for years; feedback from customers and partners was always excellent. Over time, Adolfo helped us during pre-opening phase of several hotels, when lots of "temporary" content is needed before a property is ready for an official photographer to shoot final pictures; this is where Adolfo's flexibility and availability played a key role, capturing images to be used immediately to promote a new hotel before its opening.
Some of those images caught the eye of brand and marketing leaders, so Adolfo became an official, approved photographer. Since then, he has worked with nearly all brands across the division, he improved his equipment and photography techniques, to become the preferred photographer of many thanks to his professional attitude, flexibility, and ability to create relationships with all stakeholders involved in a (often complicated) shooting session.
JUAN LUIS DIAZ
DIRECTOR OF MARKETING SPAIN & PORTUGAL
STARWOOD HOTELS & RESORTS
The Westin la Quinta Golf Resort & Spa in Marbella, Spain has worked very closely with Mr. Adolfo Rancaño during the past 2016. He was the photographer chosen to produce the official new images of our property after undergoing a complete renovation and re-branding to Westin. We are delighted to say that Adolfo and his team did an excellent job delivering quality images on time and on budget. He always showed very professional approach and flexibility with the needs of the hotel and we definitely look forward to continue collaborate with Mr. Rancaño in 2017 to complete the remaining areas which are still under construction.
ALEXANDER PEEV
GENERAL MANAGER
THE WESTIN LA QUINTA GOLF RESORT & SPA, BENAHAVIS, MARBELLA
Adolfo is a very easy-going person and a hard working photography expert who showed great professionalism before, during and after delivering his services to Pine Cliffs, A Luxury Collection Resort. His high level of attention to the detail and careful preparation and editing of each shot resulted in great photography for the resort, which I am very proud to display in all channels promoting the 3 different hotels we have onsite. I highly recommend his services for anyone looking to obtain outstanding quality photos for their hotels.
CESAR COELHO
MARKETING & COMMUNICATIONS MANAGER
PINE CLIFFS, A LUXURY COLLECTION RESORT, ALGARVE-PORTUGAL
had the chance to work with Adolfo during the opening photo-shooting of Sheraton Lake Como Hotel in Lake Como, Italy. With him, we took in 15 days of work, the total shooting of the hotel, including rooms and common spaces. Due to the lenght of the work but also for the full operativity of the hotel, the task was not easy to roll-out, but with Adolfo we successfully reach our goal in time and with a wonderful final photo portfolio that we are using still today. I can honestly say that Adolfo is a great hotel photographer: he knows perfectly Starwood standards but he is also a reliable and easy person to work with. He always tries to solve problems and not creating new ones and I really enjoyed the time spent with him in co-ordinating this important job for my hotel.
PIERFRANCESCO COSCARELLI
EXTERNAL WEB MARKETING MANAGER
SHERATON LAKE COMO HOTEL
Adolfo is my favorite product photographer. He has been working with our hotels for years, helping us to show our properties at its best. His pictures and his vision of the product is outstanding, always innovating with the marketing trends. He is not just a very good professional but also an easy-going and very helpful photographer.
ANA BELEN GONZALEZ
DIGITAL FIELD MARKETING MANAGER
MADRID & SOUTHERN SPAIN
STARWOOD HOTELS & RESORTS
We had the opportunity of meeting Adolfo for all our photos in Asset library.  It  is amazing his work, it is art, impressive photos and there is a lot of work behind every single picture. I did not realize that till I met him.  Clean work, working hard, many hours to find the best lights and solutions. Perfect, nice and charming. Pleasure working with you, Adolfo.
CELIA ESTEBAS
PUBLIC RELATIONS EXECUTE
HOTEL MARQUES DE RISCAL, A LUXURY COLLECTION HOTEL, ELCIEGO-ALAVA-SPAIN
Since I started working at Starwood back in 2012 I´ve coordinated a number of photo shootings at some of our hotels, some of them with internationally renowned photographers. Shootings aren´t always an easy labor specially in hospitality industry where guests demand 100% attention of the hotel´s team. In my opinion, this is where Adolfo really differentiates from the rest. Trustworthy and easy going, he always keeps in mind that hotel´s operations are complex and schedules his shootings to minimize the impact on the hotel´s operation.
In the past few years we´ve experienced Adolfo´s amazing projection, moving from 360º virtual tours to high quality photography. Always in constant innovation, his technique has evolved exponentially until now. Today, he boasts an impressive conjunction between excellent lighting and rich textures that showcase the hotel´s at their best, maximizing the scenes beauty and attracting viewers' attention to the key selling points.
BENJAMIN DEL PINO
DIGITAL FIELD MARKETING EXECUTE
MADRID & SOUTHERN SPAIN
STARWOOD HOTELS & RESORTS